Scoresheet is a flexible way to review your students' results over multiple questions or Sets. You can use Scoresheet to monitor student progress and save time grading. The color-coded student and question averages make it easy to identify questions to review and spot students who need more help.
Select Class and Date Range
After clicking on Scoresheet, you will be instructed to select the Class you want to work with. Upon selecting the Class, you will have various customization options.

On the right side, at the top of the Scoresheet screen, you will have the option to select one week or one month for your Scoresheet range. Plickers Pro users will also be able to select 90 days or set a custom time range. At the left, you will have the option to toggle back and forward, one day at a time, or click on a tab for Today.
Sort Your Results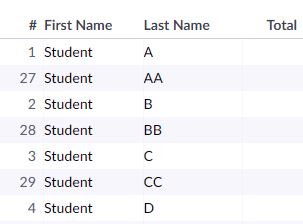 While in Scoresheet, you can sort your results by students' first names or last names, or by card number or by total score. Click on "#, Name, or Total" at the top of the list to change your view.

Using the drop-down menu at the top right will allow you to view or hide student card numbers and last names.
Individual Questions and Collapsed Sets
By clicking on a specific question near the top of the page, you will be able to see the breakdown of student answers and the overall percentage for that question. Once you are in that view, you can move from question to question, forward or backward by clicking the gray arrows on either side.
The Collapse Sets button at the top will allow you to see a class total for each Set played in that Class. Averages appear at the bottom and student totals appear at the left. Color-coded tabs show you how the class did as a whole.
Color Coding
We use the following color-coding system for Question, Set, Student, and Class totals:
Dark Green: 85% and higher

Light Green: 70% and higher

Orange: 60% and higher

Red: Below 60%

Blue: Survey

Grey: Absent
Export Results
Excel guru? Spreadsheet sorcerer? Use the Export Data button on the top right to download a CSV file and slice and dice the data to your heart's content.