How to Scan Responses
Are you ready to play your content for a Class? Scan your students' Plickers cards to collect Students' results!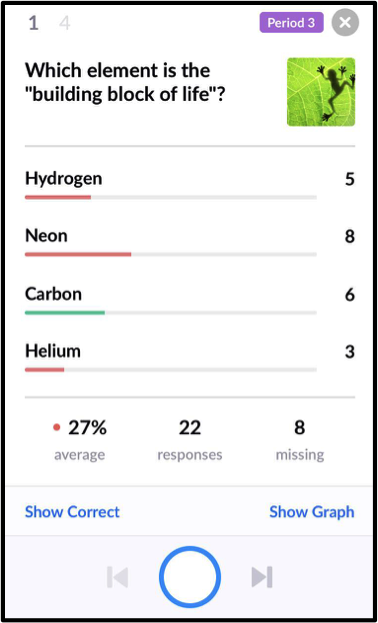 To start scanning:
On the web, sign in to Plickers.com. Click on the Now Playing button at the left-hand side of the toolbar.
Sign in to your Plickers mobile app.
Select the Class that will be playing and click on the content in your Class Queue. For more detailed instructions on using Now Playing, visit our Playing Your Content in the Classroom page.
Press the blue circle icon to begin scanning student cards.
As you scan, you will see the number of successfully scanned cards appear at the top of your mobile app.
When you've scanned all of your students' responses, press the red button to stop scanning.
Your mobile app will update automatically to show student results.
When you are completely finished scanning, click the X at the top right corner of your mobile app.
Then, click Mark Done. This will sync your results to Reports and Scoresheet.
Clearing Student Responses
We all make mistakes sometimes! Maybe some students realized that they held their cards in the wrong direction, or you might have scanned before everyone was ready….it happens. Luckily, there are two ways to get rid of inaccurate responses.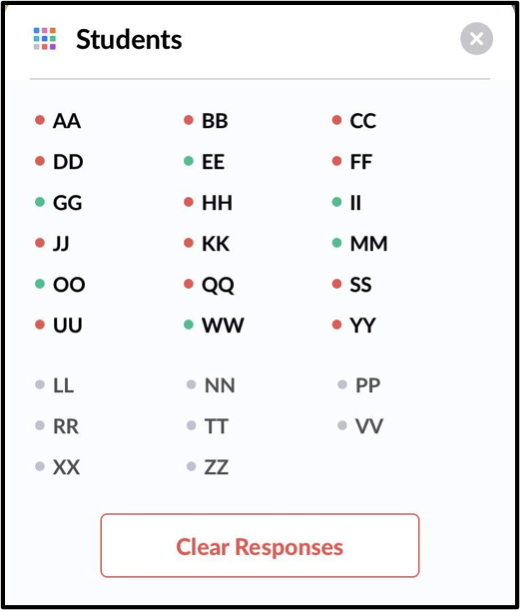 To clear responses while actively scanning:
Click on the blue circle button at the bottom of your mobile app.

On the bottom right-hand side of your mobile app, tap the 9- square icon.

Select the red Clear Responses button.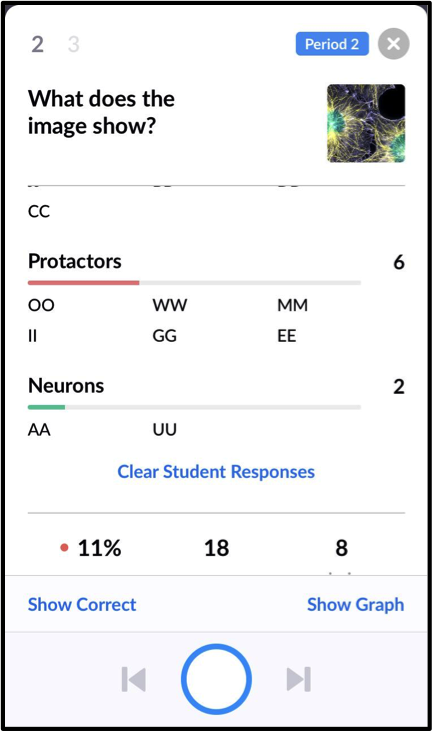 To clear responses after you have stopped scanning:
Tap the answer graph that appears on your mobile app screen.

Scroll past all four answers until you see

Clear Student Responses

in blue text.

Select Clear Now to remove responses.

Re-scan students' cards using the blue circle button.
Please note that you can only clear student responses from the mobile app. For information on deleting student results, visit our Set Reports help section.
Scanning Tips
Make sure every student's card is visible while you are scanning responses.

Green indicates correct answers, Red indicates incorrect answers, Dark Grey indicates invalid answers and Light Grey indicates students who have not been scanned.

If you're interested in comparing a pre-lesson assessment with a post-lesson assessment, add the relevant Question(s) to your Class Queue twice to create two "copies" to use with the same group of students. Scan one of them before your lesson and scan the other after your lesson.
Plickers works offline, so you can scan student responses even if you don't have an Internet connection. See our help page Using Plickers Offline for support.