Overview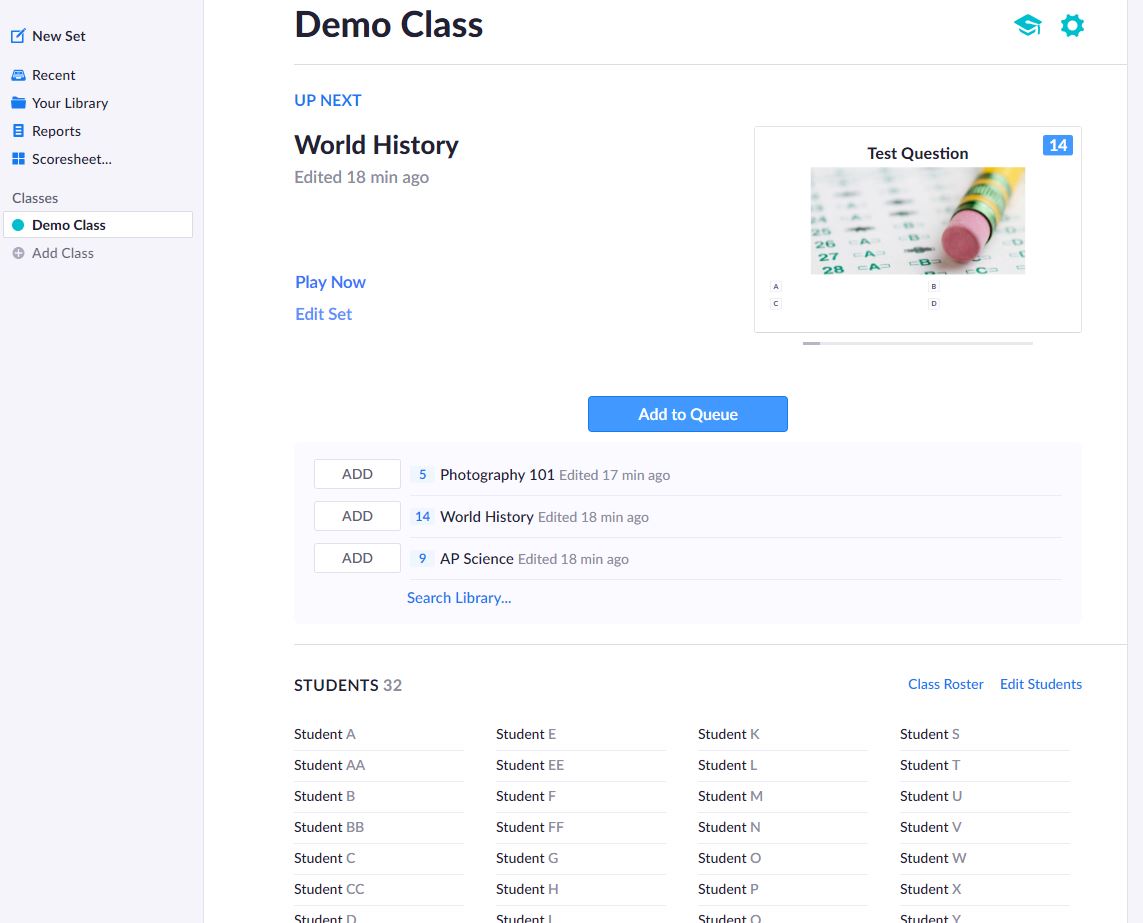 The Class Homepage is an overview of your class content and Report history. Click on any of the Classes in your list and you will go to a detail screen that shows everything you want to know about that class, including your Queue of upcoming questions or Sets, a list of reports from already played Sets, and a Class Roster.
Manage Class Settings
There are control buttons at the top right of the page to navigate directly to Reports, your Student Roster, or your Class Settings. In the Settings section, you can set the color associated with that class or set the Subject or Year for that particular class. From that screen, you can also archive the class by clicking on the tab at the top right-hand side. To un-archive a class, click on Classes and view your Archived Classes - from there you can make any class Active again and it will reappear in your main class list.
Play in Class Now
Clicking Play Now will start playing the first question displayed at the top of the page. From that screen, you will see options to use Full Screen, minimize the question, see your student list, or view the upcoming questions in your queue. When you hover on the view of upcoming questions, you can click on any question and jump straight to that question. To exit and return to your Class Homepage, click on the X in the upper right-hand corner.
Upcoming Content / Class Queue
Your Class Homepage will show you the next question you have queued up at the very top. Below that, you will see a list of Upcoming questions or Sets you have entered in your queue. From here, you can play, edit, or reorder the questions in your queue by hovering just to the left of the question you want to move, grabbing the controller and dragging it up or down to reorder. Scroll to the bottom of that section and you will see the Add to Queue button. Clicking on that will allow you to add more questions or Sets from your Library. You can delete either a single question or a full Set by hovering and then clicking on "X" to the right.
Bulk Queue Questions
You also have the option of clicking on a question, holding down the CTRL key and selecting multiple questions all at once. From there, you can right-click on your selection, hover over Add to Queue in the drop-down menu and select the class you'd like them to be added to.
Reports
Scroll past the Upcoming Queue section of your Class Homepage and you will see a list of your Latest Reports. Here you can see a detailed history of the most recent content you've played in class. Click See All Class Reports to see a full history of all sets or questions you've played.
From the full list of Reports, you can click on any Set or question to view more detailed information about your results, including the overall class percentage, and which students selected each answer. The graded questions (questions with one correct answer, or True/False), will have a green line beneath the correct answer and red lines beneath the other answers. Survey questions will have blue lines beneath the various responses.
After you click on a specific question, you can select All or Answered to display all of your questions, or only the ones that have already been used. The grid icon on the far right allows you to adjust the way those questions appear on your screen. Whether you're viewing all or just some of your questions, you will see buttons on the right that allow you to Continue Playing, Reveal Set in Library, Archive, or Delete the Report.
Click on a specific question to see the results from that question in a large screen view.
View and Edit the Student Roster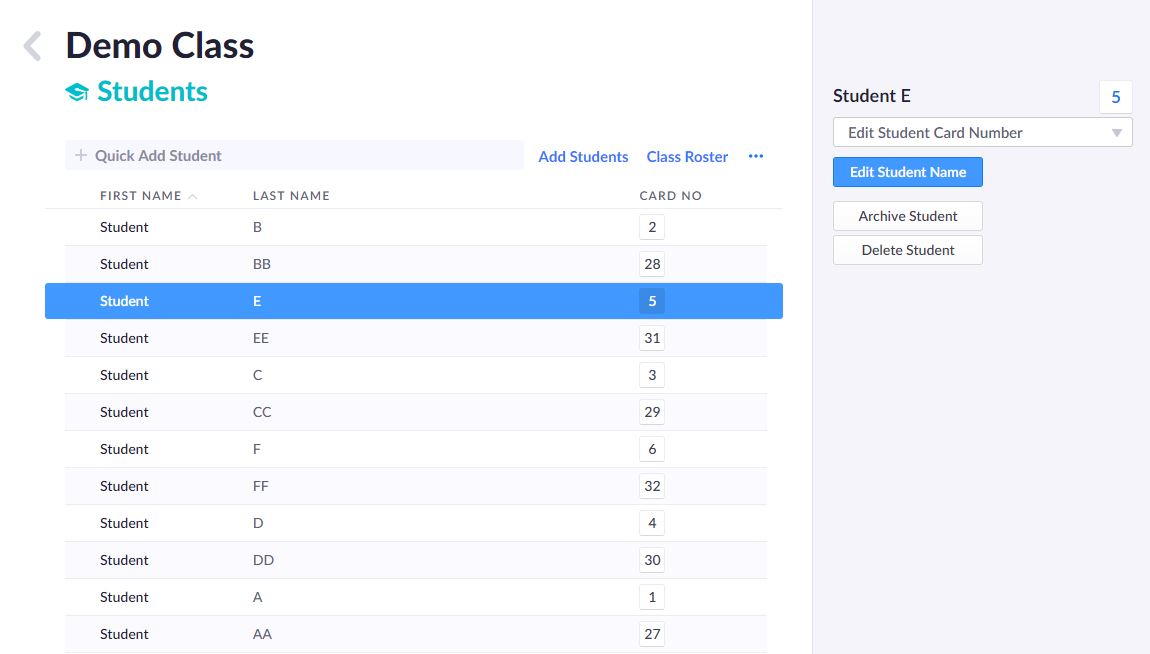 At the bottom of your Class Homepage, you will see information about your students. Click on Edit Students to Add, Archive, or Delete a student from your class. Clicking on a specific student will allow you to edit that student's name or change that student's card number.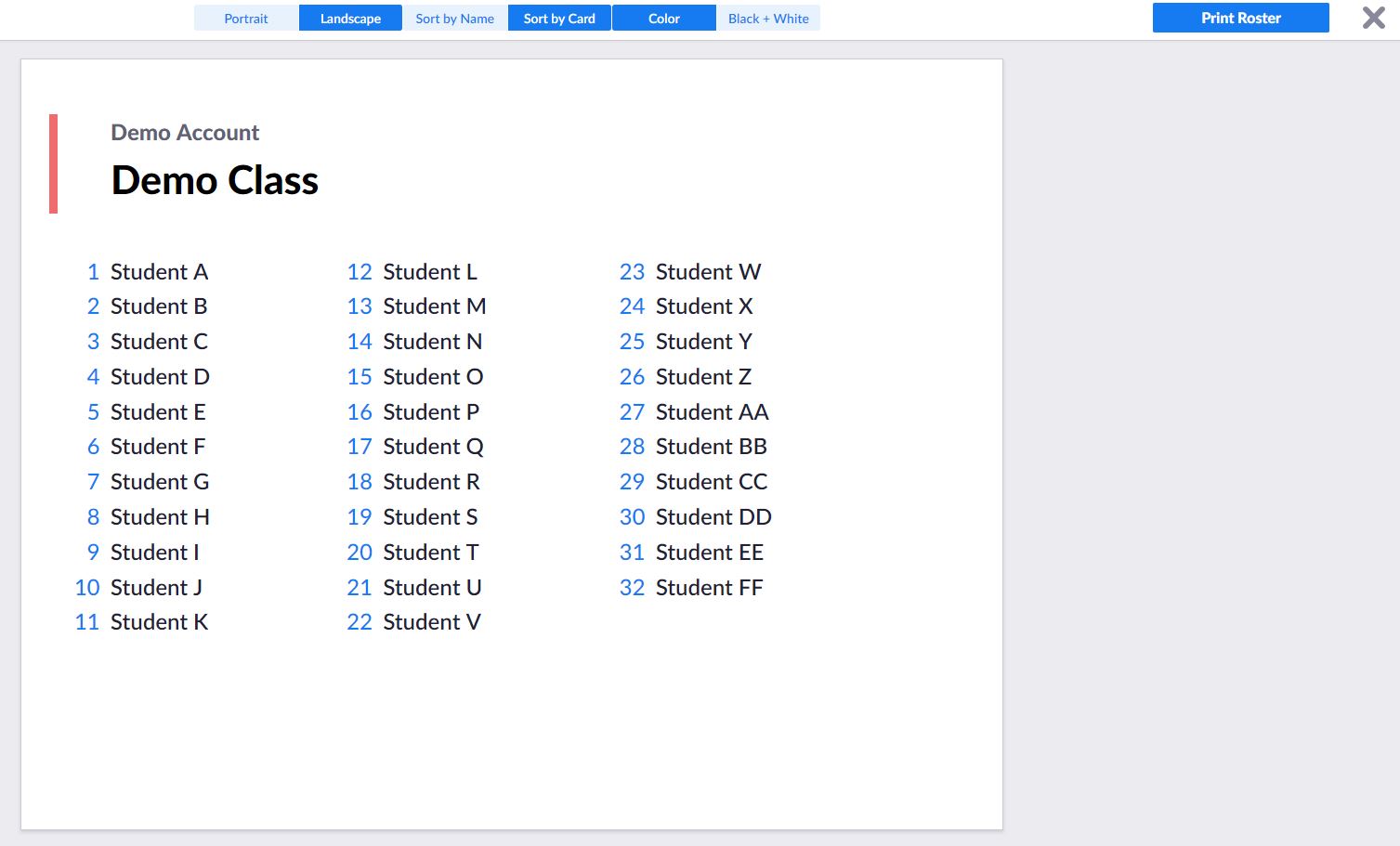 Clicking on the Class Roster button will allow you to sort your students' by name or by card, adjust your layout, and print your roster. From this screen, you can also choose to print in color or black and white or choose to display the names in landscape or portrait format.