To help make the most of the Now Playing feature within Plickers, we've collected together a few tips and tricks for you, separated into the categories shown below.
More info
If you'd like to learn more about Now Playing and how to use it with your students in the classroom, feel free to head over to our overview article here.
General tips
First, here's a selection of more general Now Playing tips that'll help you to use Plickers to its full potential.
If you need to temporarily exit the Now Playing feature within your app, simply swipe down while you're in the question launchpad or instant results screen.

When you're ready to re-enter your session, you can access Now Playing again through the gray box at the bottom of your screen, as shown in the image below:

Tapping this will allow you to resume your session from where you left off.

If you click on the 'x' and exit the plickers.com Now Playing window in the middle of a Set, your Plickers session will be closed (rather than simply paused like in the previous tip about swiping down in the app).

So, if you ever need to pause your session to look something up on your computer, we'd recommend keeping the plickers.com Now Playing window open, and using a separate tab or window to find what you need.

The next tip will show you how to get back to your session if you accidentally end your session within plickers.com.

If you've accidentally closed the plickers.com Now Playing window in the middle of a Set, don't worry, you can just follow these steps to get back in and continue from where you left off:

From your plickers.com homepage, select your Class from the left-hand sidebar
The Set you were playing should still be at the top of your Class Queue
Click on the Play Now link underneath the Set title
Then, back in your mobile app, tap the gray box that appears at the bottom of the screen

It's possible to scan your students' cards even without an internet connection.

You'll just need to make sure that your Queue is set up beforehand (when you're online), and you'll only be able to use the Plickers mobile app to ask your questions (syncing with plickers.com can only occur with an internet connection).

Feel free to have a browse through our Using Plickers Offline help page for more information.
The Question Launchpad
This is what the question launchpad screen looks like: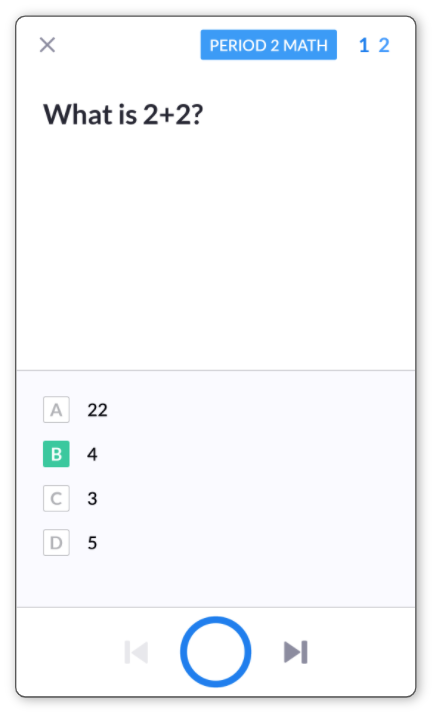 This is only really intended as a reference screen for you, and so it's not possible to change the formatting here. For example, the correct answer is always highlighted.
Tips for the Scanner
The scanner is the main attraction of the Plickers app, and here are a few tips to help you get the most out of it...
1. Try to reduce any backlighting in your classroom, for example from windows located behind your students.

Light that shines directly into your device's camera may impact the scanner's effectiveness.

2. Reduce any glare emanating from the cards.

If you like to laminate your printed cards, try to use a matte laminate if possible.

3. Try to maintain a good distance between your students' cards and the scanner.

Standard Plickers cards will scan optimally from around 6-15ft.

Of course, number 3 will be dependent on the size of your classroom, so the next toggle menu highlights how best to go about scanning larger classrooms.

Sometimes you won't be able to fit your whole classroom into the scanner's viewfinder, and so you'll have to move around to capture all responses. In this case, we recommend that you move your device slowly and in stages:

Hold your device still, and allow the scanner to read the cards in the first section of the room
Then move your device steadily so that the screen covers a new section of the room
Hold the device still again and take a moment to allow the scanner to do its thing
Repeat as many times as you need, until all cards are scanned

As each card is scanned, each student's name will appear alongside the card on your scanner screen. This is enough for some teachers, but in larger classrooms, it can be helpful to use the following tools within the scanner too:

Card counter

The first thing you might want to look out for is how many cards still need to be scanned.

To help with this, we've placed a card counter in the top right-hand corner of the scanner, which features two numbers:

The first number tells you how many cards you've scanned, and the second number displays how many there are in total.

So, the image above shows that only 1 card has been scanned, out of a possible 7.

Student grid

Let's say the card counter tells you that a few cards are missing. You can quickly find out which students these belong to by using the student grid.

To access this, tap on the grid icon in the bottom right-hand corner of the scanner.

Students who haven't answered yet will show at the bottom of the resulting list, alongside a light gray dot.

A gray dot can also mean your student has selected an invalid choice, for instance if D has been selected and only choices A, B, and C are available.

And of course, green indicates a correct answer, and red denotes an incorrect choice.

Note

The scanner will always take the latest answer offered by a student. This is just something to be aware of, in case a student changes their mind and rotates their card during a scan.

And in addition to the student grid and the card counter in the app, you can also use the Student List on your computer's Now Playing display.

The next toggle section goes through this option in more detail.

It's possible to adjust the Now Playing display visible to your students, so that they know when their answer has been logged and can lower their card. To do so, follow the steps below:

At plickers.com, in the Now Playing window:

Select Student List in the top right-hand corner
Then select either Display while Scanning or Always Display

When a student's answer is logged, their name will be highlighted in blue, indicating that they can lower their card. For example, in the image below, 3 students out of 7 have had an answer scanned.

Note

Keep in mind that the scanner will always take the latest answer offered by a student (in case they change their mind and rotate their card during a scan).
Instant Results tips
This is the instant results screen: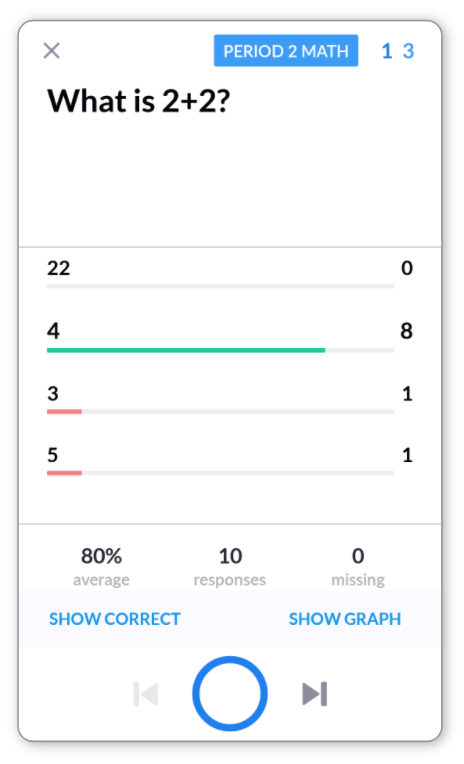 And below are a few tips that might be helpful for when you reveal the answers to your students during your Plickers sessions:
Tap on the graph to reveal which student selected which choice. Names will appear underneath the lines denoting each choice, as you can see in the image below:

If you need to clear the responses from your most recent question and start the scan again:

Tap on the graph on your mobile device
Scroll down
Select the Clear Responses button

In addition to the arrow icon, you can also swipe left to move on to the next question.

Be sure to select both Show Correct and Show Graph when you reveal your answer. If your whole class selected the correct answer, Now Playing on plickers.com may just have a surprise for them.
We hope these tips help you to make the most out of our Now Playing feature. And of course, if you have any questions about anything at all, please feel free to get in touch either through our web form, or by sending an email to our support team at support@plickers.com.