In this article:
Sign-in with Apple is now available
You can use it to sign in to both your plickers.com web account and your Plickers iOS mobile app.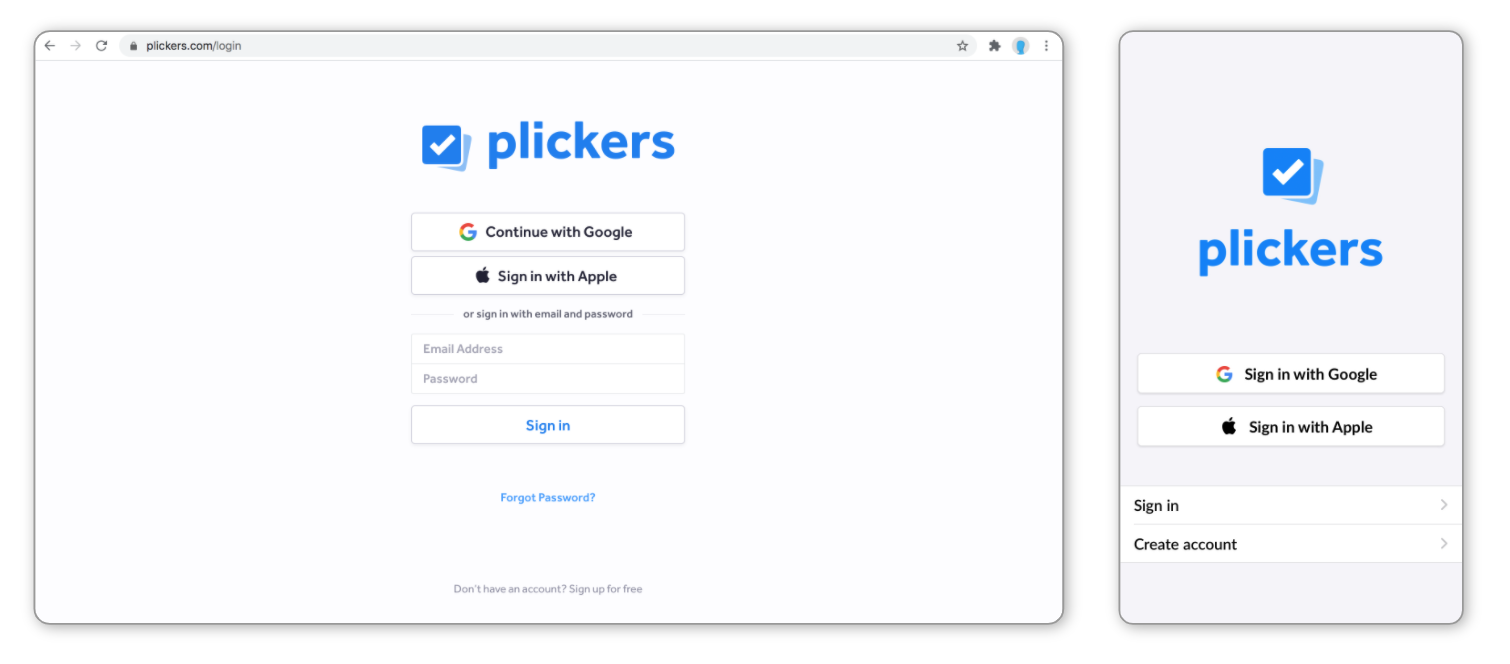 Add Sign in with Apple to your existing Plickers account
If you're already a Plickers user and you'd like to start using Sign in with Apple, we would recommend setting it up within your Plickers account, by following the steps below:
Head over to plickers.com/account (or click on your name in the upper right-hand corner of your plickers.com homepage).
Scroll down to the Sign in and Authentication section.
Click on the link called Add Apple Sign-in.

A pop-up window will appear, in which you'll enter your Apple ID and password.
You'll then be provided with a verification code to enter into the next window.
Finally, you'll be asked a couple more questions to confirm your Sign in with Apple request.
Please note: your Apple ID should match the email address that is linked to your Plickers account.
Create a new Plickers account using Sign in with Apple
If you're new to Plickers, it's possible to create a new Plickers account simply by selecting Sign in with Apple when you sign up.
You can do this via the web (at plickers.com/signup) or via our mobile app, but we would recommend starting out at plickers.com in your web browser on your laptop/computer.
Once you've signed up, we'd also suggest adding a password/email combination as a back-up sign in method. You'll find the option to do this under the Sign in and Authentication section of your Account page.
For more information on how to get started with Plickers in general, feel free to check out our Getting Started Guide here.
Additional info
Selecting 'Hide my Email' when adding Sign in with Apple
One of the privacy features of Sign in with Apple is the ability to hide your email address and use a 'private relay' address. Please note though that this feature is only available for new Plickers accounts.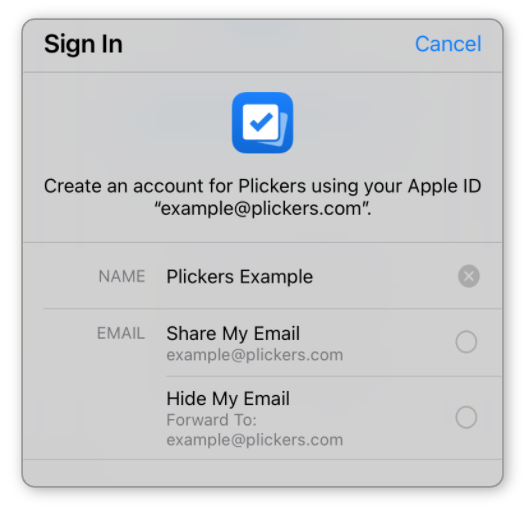 If you need to contact our support team about an account with a private relay address enabled, please have that information ready so our team can locate your account. You can find your private relay email address on your account page at www.plickers.com/account.
Google Sign-in
It's not possible to enable both Sign in with Apple and Google Sign-in within one account at the same time.
But if your Apple ID, your Google Sign-in ID, and your Plickers email address are all the same, you will be able to use either Apple or Google to sign in to Plickers at any time.
You can also manually control this in your account page, where you'll see the links to either Remove Apple Sign-in or Remove Google Sign-in.
Troubleshooting
I selected Sign in with Apple, and all my Classes and content seem to have disappeared
Don't worry, your content is safe - it's likely that a new account has inadvertently been created. This can happen if your Apple ID is different to your Plickers email address.
Please double check that you've signed in to your Plickers account using the correct email address.
I can't see the Sign in with Apple button to log in to the Plickers app
Sign in with Apple is only available on the iOS app, so if you're using an Android device, the option won't be visible.
If you're on iOS and you still can't see the button, please contact support.