Depending on how you are using Plickers in your classroom, you may want to display student responses and the correct answer, using either your mobile app or your Plickers webpage. Use these options with discretion; it may not be appropriate for students to see how others answered in many circumstances.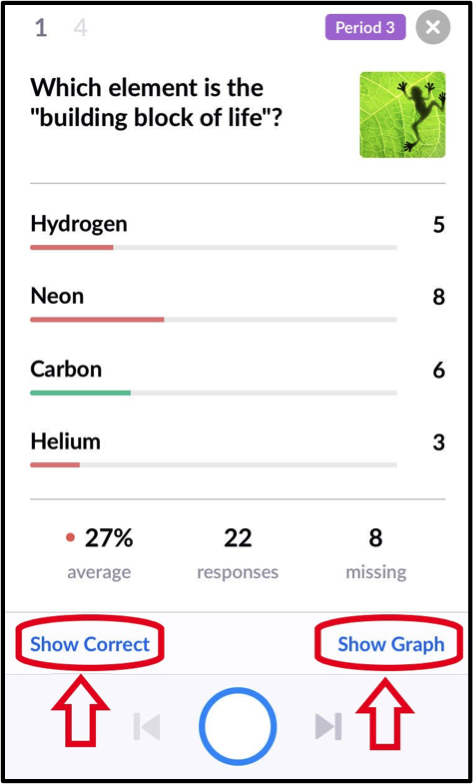 After students have played at least one Question, you can display responses.
From your mobile app:
Press the

Show/Hide Correct

button near the bottom of your mobile app screen to indicate the correct answer choice to your students.

Use the

Show/Hide Graph

button to display a graph indicating how students responded to the Question.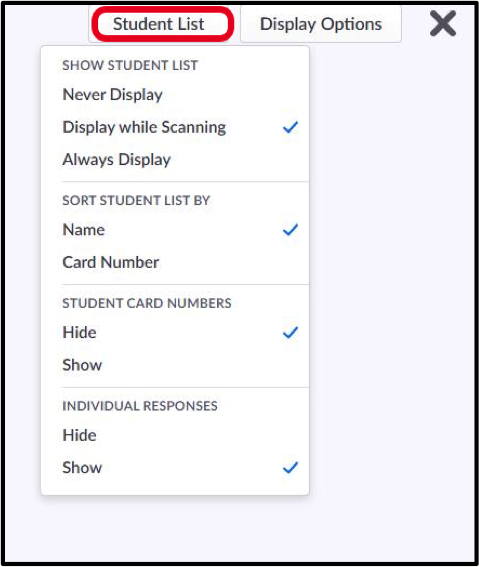 From the web, you have access to additional display settings, as well as the option to always display student responses in the same way across multiple plays.
From the Now Playing screen, in the top right corner, click on

Student List

. Then, choose from various options to

Never Display

,

Display while Scanning,

or

Always Display

Student names.

You can also sort Student List by name or card number, reveal card numbers or display individual responses.

In addition, you can use the

Display Options

button to customize the way that Students' responses might look on the screen by changing the answer choice color, modifying how answers are displayed or showing response counts.
Here is an example of how Students' responses and the correct answer might look when revealed on the web app.